A Review of "The Education of an Idealist"
By LARRY JOSEPH CALLOWAY (C)
Samantha Power's new book, "The Education of an Idealist," is an engaging personal memoir telling how she was formed by Ireland, acculturated by America and educated by a dangerous world. It begins with her love of her pub-dwelling father in Dublin and ends with her professional friendship with Barack Obama in Chicago and Washington. 
There are entertaining anecdotes along the way about everything from jogging under fire in Sarajevo to breast feeding while UN ambassador. But this true testament, in her own un-ghosted words, is shadowed by the same dark theme as her first book, "A Problem From Hell," which won a Pulitzer prize in 2003 when she was just 32. 
"We have been bystanders to genocide. The crucial problem is why," she wrote then. Sixteen years later, informed by a remarkable career as an "upstander," (her coined word), her question is refined: "How do the moral and religious traditions of nonviolence coexist with the moral imperative not to stand idly by in the face of suffering?" 
But wait. Samantha Power is. . .who?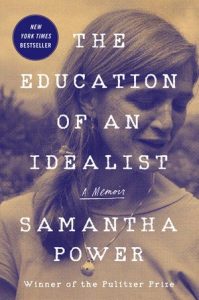 Born in 1970 of Irish parents, who separated when she was eight. Mother and her new partner, both medical doctors, immigrated with her to the United States. Schooled in Georgia, graduate of Yale. Became an American citizen in 1993. Freelance war correspondent, Bosnia, 1993-96. Joined Obama's Senate staff in Chicago, 2005. Married Cass Sunstein, a former Chicago law school colleague of Obama. Two children with Sunstein, a boy and a girl. Served with the National Security Council, 2009-13. United Nations ambassador, 2013-2017.