Mid February's Cold Numbers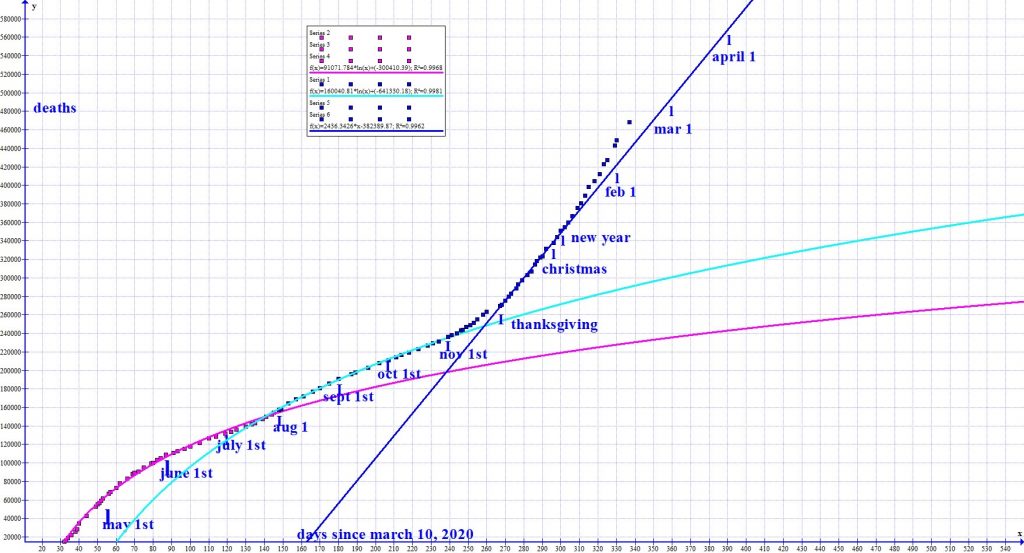 THE NATIONAL COVID DEATH TOLL has been tracked mathematically since March by Bill Miller of Crestone. His graph as we approached mid January shows the beginning of a fourth deviation, representing the beginning of a possible new peak. Two weeks earlier he changed the axes of the graph to make the projection easier to see. Now that line is branching upward. Of the 2 million covid deaths worldwide, 400,000 have been in the United States.
And of the national death toll, 54 deaths have been in the San Luis Valley and 23 in neighboring Chaffee County, according to my compilation of county reports by the Colorado Department of Public Health and Environment.  Total cases since March have been 2859 in the six counties of the Valley and 1380 in Chaffee County. In the month since Jan. 15, the Valley has had eight more deaths and 411 more cases, and Chaffee County has had one more death and 177 cases (Chaffee totals include the Buena Vista state prison). Saguache County has had no new deaths in that period and 26 more cases.
Among the active outbreaks in the region listed by the state, Monarch Mountain had 17 employees infected by covid 19.