"Spotlight" At Telluride 2015My last Telluride Film Festival review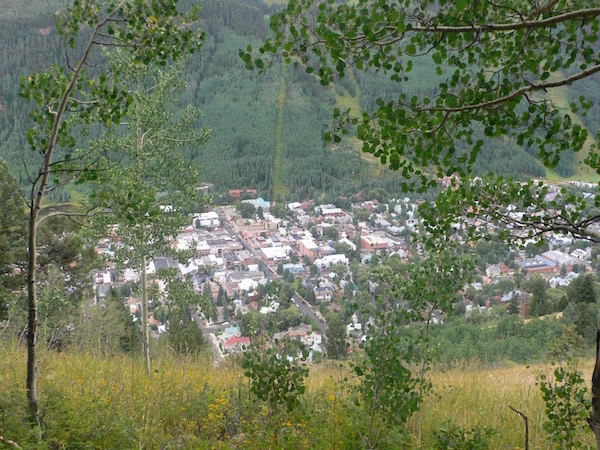 September: Telluride
By LARRY JOSEPH CALLOWAY
NEWSPAPERS, the first drafts of history, also used to write the loglines of movies. The logline for "Spotlight," debuted at the 2015 Telluride Film Festival and my hope for a lot of awards, goes like this: A quartet of Boston Globe investigators, publishing under a "Spotlight" logo, shames the Catholic Church, the legal profession and journalism itself in a year of stories about the systematic burying of cases of sexual abuse of children by parish priests. The 2003 Pulitzer Prize panel called the work "courageous," and the screenplay by director Tom McCarthy ("The Station Agent") and Josh Singer portrays that courage with artful intelligence.
We all know the general story, but this telling is new. It unfolds like a thriller. The reporters discovered a pattern of concerted reaction in contradiction of the "just a few rotten apples" p.r. strategy of the Church. When an activist group supporting the victims, mostly kids from poor Boston parishes, would manage to get a case to court, a conspiracy of silence descended like a dark curtain. A pedophile priest would get some time off and a transfer. The family of the child or children would get a patronizing visit by the archbishop and $20,000 (a limit set by a strange Massachusetts statute). The case would then be officially sealed and the victims, not the defendants, would be abandoned to live in shame.
The Spotlight reporters led by Walter Robinson saw the pattern and were the first to expose it after diligent research. Robinson is played by Michael Keaton, who is not the star because the ensemble including him, Mark Ruffalo, Rachel McAdams and Brian James is the true star. They repeatedly attempt to interview lawyers who say they can't talk because they would be disbarred for violation legal ethics. When Robinson ridicules this, a lawyer responds that he was just doing his job. Robinson asks, then, whose job was it to look after the victims?
Director McCarthy employs some classic shots at the triumphant moment: papers roaring from huge presses, delivery trucks moving out at dawn like a tank battalion. These visual clichés are ironic in this time of failed newspapers. We no longer get our news with a plunk at the doorstep. We no longer subscribe to paper. But in 2002 the Boston Globe was still spinning with few wobbles under ownership of the New York Times, and the standards of great newspapers were still honored – fact-checking, vetting of sources, corroboration of details, digging for documents, resisting the urge to rush into print or, for that matter, to save expenses.
The producer of this film, which is in the tradition of "All the President's Men," is Participant Media, founded by Jeff Skoll. Participant received Telluride's 2015 Special Medallion for its dedication to issue-based films like "An Inonvenient Truth" or "Citizen Four." The documentarian Errol Morris wrote in the program: "Behind much of Participant's innovation is the truism that ideas can be sold better in a non-didactic fashion."
In a case of bad timing, a film being released right away by Warner Brothers also characterizes Boston. "Black Mass" is the story of the Southside crime figure James "Whitey" Bulger, played efficiently and grotesquely by Johnny Depp. But this film is less informative than it is entertaining – provided you get something out of beatings, strangulations, shots through the head and masculine dialogue with a fuck in every line. Director Scott Cooper ("Crazy Heart") said he was hesitant to enter the well-established field of crime stories, but that this script was about the humanity of criminals.
Whatever. By Christmas Boston will be known in every shopping center multiplex as the city of psychopathic gangsters and pedophile priests. (Still, rising like a media lotus out of all this corruption is Boston's world champion NFL team. . . .Oh. Wait a minute. . .)
So, it was Boston Globe investigators who revealed to a startled public that Whitey Bulger before he disappeared was protected by the FBI as an informer. This is another in the legacy of loglines. But all that is passing. The Globe, bought by the Times for $1.1 billion in 1995, had to be sold in 2013 to the owner of the Red Sox and other sports franchises for $70 million.
Here is the trailer: http://spotlightthefilm.com
MOST of the some 40 feature films at Telluride were not messages, not stories dependent upon their internal reality and logic. Alfred Hitchcock said, "Logic is boring." This is among his one-liners (like, "Actors are cattle.") in "Hitchcock/Truffaut," about the weeklong conversation between him and the French director Francois Truffaut, half his age, in 1962. The conversation was not filmed, but critic-historian Kent Jones got access to the audio tapes from which Truffaut produced an illustrated book in 1966. In his film essay Jones interviews directors about the book and Hitchcock, whom he calls "an artist who wrote with a camera."
Among the directors Martin Scorsese reveres Hitchcock's skill with suspense, as if asking the audience, "What do you expect? OK. Now, I'm going to give you something different." With "Psycho," released in 1960, "he rolled a hand grenade into the conference room," Scorsese says. Peter Bogdanovich recalls sitting in a theatre during the first run of "Psycho" and hearing "a prolonged scream" throughout the audience during the shower scene crescendo. In the film essay there is much conversation too about the emotional evocation of "Vertigo," not only the fear of heights but also the longing of those in grief to bring back their lost love. Scorsese says he doesn't believe the plot of "Vertigo," but that doesn't matter. "A plot is just a line you hang things on."
Hitchcock began his career making silent movies, and he says the advent of synchronized sound brought in directors who lost "the purity of film." Telluride honors the purity, screening newly discovered and restored films from the silent era, usually with in-house music by the Alloy Orchestra. I watched the first half of Fritz Lang's 1924 version of the "Nibelungen," in which like most epics the plot is more than a clothesline. If I had to read it in school I would mark Brunhild's summarizing interline: "Hail to thee, King Gunther. For the sake of a woman's lie you have slain your most loyal friend." That would be Siegfried, the German hero.
For balance, I saw Laurel and Hardy's "The Battle of the Century," in which lost segments have been found and restored, including what must be the world record pie fight – 3,000 cream pies. That was where all that laughter was coming from in Telluride.
Lest you think Telluride is obsessed with the silent past and dead directors, let me mention that writer-editor Rachel Kuchner was this year's "guest director." In this program a celebrity is asked to choose six favorite films to screen and comment on. Kuchner's included the never-released saga of the Rolling Stones in America called "Cocksucker Blues," of which she said, "There's a spent glamour that makes even its most explicit sex scene – in an airplane aisle – more curious and awkward than erotic." By her early forties she had written  two bestsellers — "Telex from Cuba" and "The Flamethrowers."
FOR HITCHCOCKIAN emotion hung on implausible plot lines, two feature films drew capacity audiences:
"Room," filmed in Toronto by Irish director Lenny Abrahamson with grants from the film commissions and Canada and Ireland, is based on the Booker Prize-winning novel by Emma Donoghue in which a mother and son are held captive by a pervert in his super-secure one-room backyard shed. It's about motherhood, childhood, and bond of love in the real world (they escape half way through the movie), which just might be less real that the room.
"Marguerite," a French film set in the 1920's is about a very wealthy baroness with a shrieking soprano voice whose delusion that she is a diva is encouraged by enablers living off her patronage as is her philandering husband. Her performances among various sycophants will keep film audiences laughing until the plot takes a tragic turn, revealing all the needs is love and suggesting the question, "Isn't your fragile self a bubble that should not be pricked?"
And the more plausible "Taj Mahal" evoked the fear of being killed in a terrorist attack and the loneliness of its aftermath. Filmed by writer-director Nicolas Saada at the ornate five-star hotel in Mumbai where dozens were murdered in 2008 by Pakistani Islamists, it stars Stacy Martin as an 18-year-old French student trapped in a fourth-floor room as the terrorists run around kicking in doors and shooting anybody in sight. Then comes the fire. The film does not end with her rescue. . . .
WITHIN the wonderful new genre that I think of as a sophistication of ethno-films, the province of anthropologists, there were these from around the world:
"Ixcanul Volcano," a product of tortured Guatemala filmed in the predominantly Maya area near Lake Atitlan, is the story of a virgin Kaqchikel-Maya girl caught between a pending arranged marriage and the boy she loves. Her dream is to go with her lover to the United States, but she gets pregnant, gets bit by a snake, gets rushed by truck to a hospital where no one speaks her language, and gets royally screwed. . . .
Director Jayro Bustamante grew up the Atitlan region and knows the culture and cultural conflict of the distressed Maya people. He pays keen attention to the details of the Maya way of life – food, clothing, ceremony – in keeping with the best ethno-films of the past. The language of the film is Kaqchikel. In a drunken discussion ambitious but thwarted young men reach a consensus they'd rather learn English than Spanish. Three decades ago the indios of Central America were being massacred by military death squads. The many references to a gathering volcanic eruption can be taken as a metaphor.
"Rams," is a warm gift from Iceland where (I did not know) there are farms and well-adapted farmers with long beards. And sheep. Two brothers separated by a fence have not spoken for 40 years. They communicate when absolutely necessary by Border collie. (The sheep dog carries rolled up notes like bones.) Other details – no television, just radio from far away, transportation by ATV – draw you into this lonely way of life and make the story real. Suddenly scabies is discovered in one brother's prize ram and the aggie police order every sheep in the valley to be slaughtered. This would wipe out the rare historical breed. The brothers are forced to collaborate.
"Siti," an Indonesian gem by Eddie Cahyono is poetic, sea-conscious and black and white. A young woman named Siti is burdened by universal problems of sex and money adapted to her island culture. Her husband loses his mortgaged fishing skiff and subsequently takes to their bed, refusing to talk: Not about anything. Not about the loan shark's threats. Not about her suspected police-officer lover. Not even when she asks for permission to divorce. She works daily – after feeding and dressing her young son for school – walking the beach with a sale basket of cracker snacks. By night she is a dancer at an unlicensed karaoke bar run by a fat, hysterically jolly impresario for customers including corrupt police out of uniform. In this dangerous and conflicted world Cahyono's poetic voice-overs speak of escape.
"Do you believe in heaven?"
"I believe in the sea."
"The sea gives life and takes it back."
"There is no sadness in the sea, only happiness."
This film was discovered in Singapore by Telluride's wandering film finder, Pierre Rissient, for whom the venue where it was screened (only once) is named.
SPEAKING of poetry:
"Heart of a Dog," is all Laurie Anderson, the any-medium poet-artist-musician who has been presenting and advising at Telluride for years. On the surface she is musing, musing,  about her beloved terrier named Lolabelle with whom she left lower Manhattan for a brief refuge in the empty coastal mountains of northern California in the horrible days after 9/11. That's when Lolabelle recognized there were such things as predatory hawks and that death could come down from the air with talons, and things were never the same. . . .Just as Laurie Anderson recognized death now could come from the air in the city, this city of surveillance cameras.  Lolabelle grows old and goes blind and, because hearing is the last thing to go (as it is said of dying humans to whom attending lamas yell, "You're dead!"), this dog is given piano lessons. Lolabelle dies. Laurie Anderson's artist friend dies. Her husband dies. She learns about the Bardo from lamas of the New York school of Tibetan Buddhism. They say, "Learn how to feel sad without being sad."
---
(You can't see everything in a long weekend. Here are the ones I missed but will want to see in the coming year: "Steve Jobs," directed by Danny Boyle. "Suffragette" with Carey Mulligan and Meryl Steep. "45 Years" With Charlotte Rampling and Tom Courtenay. And maybe "Beasts of No Nation" and "He Named Me Mala."  My report on four newsworthy documentaries follows HERE:  https://larrycalloway.com/documentaries/   )