The Grass and God in AmericaPart 1, New Mexico and Oklahoma
By LARRY JOSEPH CALLOWAY
As we, Patricia and I, began our drive in a Murano loaded with camping gear on a southern route from Crestone to Washington D.C. we established an informal division of blog labor, a reversal of occupational roles. She would be the journalist. I would be the judge. She would tell stories and keep track of things. I would hand down opinions. Soon I wanted to trade jobs because while she could enjoy the ride and report on whatever came down the pike, I would have to think.
I did not want to think about politics — the CNN audio on Sirius radio was all about "government shutdown" and "default." I did not want to think about, on the other hand, the sad lot of ordinary rural Americans suffering out of sight of the politicians. After some judicial deliberation I chose another category of human behavior to observe and judge: namely, religion. After all, we were driving through the American bible belt. Pat liked this and suggested that on Sundays we should stop and go to church, especially to mega-church if we found one.
So, here we go. Let me first of all define religion so that we will not be detained along the way with argument.
Sylvia Plath wrote:
"The grasses unload their griefs at my feet as if I were God,
Prickling my ankles and murmuring of their humility."
Let this perfect poetry, this spiritually and psychologically complete sentence, serve as my definition of religion. (Yes, I know Sylvia Plath killed herself early in life and that the last line of this verse is "I simply cannot see where there is to get to." But we don't want to get into that here.)
We began in the San Luis Valley of southern Colorado, a cultural outlier of New Mexico, where the Church established itself more than 400 years ago. A sign on U.S. 285 south of Alamosa with an arrow pointing to a narrow road said, "Oldest Church In Colorado." We turned. The tall church and the flat Conejos County Court House were side by side. Something did not look right about the church. It was not made of adobe bricks. A granite monument explained that the original oldest church in Colorado was destroyed by fire on Ash Wednesday in 1928. Next to this information was a mock tomb stone sponsored by a Catholic men's group that said, "In Memory of the Unborn." We would not find God here. We drove on.
In New Mexico we saw the Pedernal, a blue-gray butte on the horizon near Ghost Ranch. Georgia Okeeffe once said (or wrote), "God told me if I painted that mountain enough, he'd give it to me." In the early 1970's, when she was still of right mind, she curated her own show of a dozen paintings for the opening of a strange gallery in the governor's office in Santa Fe (at the behest of a state capitol janitor who was her friend). All except one, the famous "New Mexico Cross" which was borrowed on her orders from the Chicago Arts Institute museum, contained the Pedernal. I suspend judgement for now on the experience (celebrated by a Shinto group in Crestone) of finding God in the beauty of nature and art.
At Ojo Caliente Hot Springs, further south on U.S. 285, where we camped the first night and, as the spa-resort slogan puts it, "soaked our bones," I saw a trim young man with a lovely companion. He had a tatoo of crossed rifles on his left shoulder. He had a tatoo of the cross-hairs of a rifle scope on his chest over his heart. He had a large silver cross on a chain. I thought, is this religion?
Next night we sat with three men from a nearby RV by a fire in the bottom of the Rio Grande Gorge south of Taos. There was a long smear of stars between the rims, and we all were looking up. I suppose you can find God in the stars, but they were interrupted by flashing lights gliding silently north and south. We argued whether all were planes. I took the minority position that some satellites are visible. Soon we tired of this and watched instead for meteorites. One of the guys posed the question whether if you were hit by one you would know it. I suggested you would never see it coming and amplified the metaphor with the concept that when a huge asteroid hits the earth, we will not know what happened. This picture of the indifferent universe was perverse enough to still my thoughts for the next two days.
Then on a Sunday morning, far from any church, we awoke in our tent at Great Salt Plains State Park in northern Oklahoma. Awoke to the soft overarching sound of great white wings. Thousands of American White Pelicans were swirling and coming to rest on the reach of river by our camp among the RV's. A neighbor brought us coffee, Christianly. We watched and shot photos.
We had seen grey pelicans in the Baja and sand hill cranes in the San Luis Valley, but these were different in some way. It was not their whiteness (with black underwings). It was their silence. These large birds don't vocalize, it seems. Yet they are described as the most social and collaborative of creatures. They work in groups to drive fish to other groups.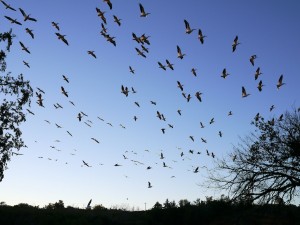 I though of Elija, who took refuge in a cave waiting for God. Then came a howling wind. But God was not in it. Then, an earthquake. God was not there. Then fire, no God. And then came a whisper. . . .