The SHOW Goes On, TorontoMy comments on the Telluride Film Festival, 2014
By LARRY JOSEPH CALLOWAY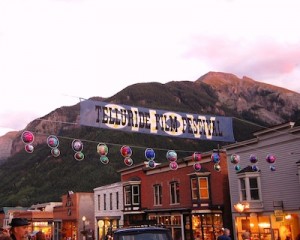 The threat by the Toronto Film Festival to put a partial eclipse on films that premiered a week earlier at Telluride did not dim any lights on the old mining town's opera house "SHOW" sign. The 41st Telluride Film Festival directors got everything they wanted for the Labor Day weekend program, according to volunteers who heard it from them.
Harvey Weinstein (yes, before he was disgraced), who was adept at Telluride premiers that go on to win best picture Oscars, did not withhold his "The Imitation Game." Gary Meyer (call him top dog, though he does not even appear on the programs) personally introduced "Escobar: Paradise Lost," as a sneak preview that "we wanted immediately" and got.
The SHOWs that I saw in the four shining days included those two features; artful documentaries on the photographer Sebastiao Salgado and Roger Ebert; angry dramas against the background of complicity of the courts and local police in corrupt evictions of homeowners in Russia and — same, same — The United States ("Leviathan" and "99Homes"); a Jon Stewart special ("Rosewater"); a peripatetic chick flick ("Wild"); two costume dramas ("Madame Bovary" and "Mr. Turner"); and an enlightening documentary on Russian hockey players ("Red Army").
— "The Imitation Game" is the story of Alan Turing's ingenious deciphering of Enigma, the Nazi radio code. Kept secret for 50 years, the contribution to the victorious end of World War II is historically equal to the invention of radar and the creation of the atomic bomb. Benedict Cumberbatch is perfectly cast as the socially distant mathematician, and Keira Knightley provides the complicated love interest. It's a fine story about genius and unimaginable insight, presented with art direction and film actualities that should appeal to the history-minded and an intellectual context that should satisfy those who know about the history of information theory and such things as the Turing Machine. Turing's story is even more unjust than that of J. Robert Oppenheimer. Perhaps tragedy is common when science and war politics meet on the field of battle.
— "Escobar: Paradise Lost" begins with two Canadian surfers (Take that, Toronto!) finding a paradise of a beach in Colombia only to get involved in the world of Pablo Escobar, the relentless head of the Medellin Cartel. It's a brutal South American world, updated and rich (Everyone has a cell phone and a gun.). The story has twists and turns and character development. Escobar, for example, appears in a favorable light at first. He is the personification of machismo — strong patriarch with a sense of justice and loyalty to family. Or so it seems. . . .This movie is a good opportunity to practice Spanish. It has subtitles and a lot of English dialog, but the Spanish is slow and American.
— "The Salt of the Earth" was the most emotionally memorable show for me. The main substance is the black and white photography of Sebastiano Salgado. From the opening — crystal-sharp shots of thousands of workers in an open pit gold mine in Brazil — I was amazed. These barefoot men scurrying up lashed-pole ladders with sacks of dirt and then running back down empty were, as Salgado's strong voice tells us, eternal: we are seeing the slaves who built the pyramids of Egypt or the Great Wall of China. Salgado, born on a farm in Brazil, has wandered the world with still cameras and determination. He has photographed the horror of famine in Ethiopia, of genocide in Rwanda, of the exiled and dying everywhere, but always with a non-journalistic humanity. For the photographer, he says, "There is a fraction of a second when you get a glimpse of a person's life." The film was co-directed by Vim Wenders and Julian, Salgado's son.
— "Life As It Is," was the basis of the Roger Ebert film, which tells his story from the days as editor of the Illinois University daily newspaper to his long suffering with cancer. This powerful movie critic was, mocking his appearance as a chubby nerd, a hard-drinking Chicago newspaper man. His wife, Chaz, comforted him at the end. Because Ebert insisted that he be shown as he was, the interviews in his hospital room are painful (he has no jaw). But soon you realize through his digital vocalization and his keyboard writing that the populist heart and soul of the man transcended the body. It's ironic that such a person would spend his life critiquing an industry based on appearances.
— "Leviathan" is like a long Russian novel but even at 2 hrs 20 mins it held my interest because of the clear characterizations and economy of editing. I happened to converse at length with a Russian in line for this, and he was openly discursive but unapologetic about the Putin era (no censorship of personal blogs, until they gather a mass following when the media laws apply, for example). The indictment of Russia is local in this account of petty corruption. The credits showed this film had some sort of state cultural department support. Anyway, the characters — and probably the constant vodka — are real and Russian.
—"99 Homes" is a speedy melodrama based on evictions in Florida following the 2008 crash. It stars Michael Shannon as a real estate broker getting rich off government-subsidized short sales. He mercilessly evicts defaulters with the backing of sheriff's deputies who call him "boss." Shannon, however, is cardboard with the emotional range of a pit bull, but that might be the fault of the unnuanced script. The soundtrack music is a digital annoyance intended to anger you (director Ramin Bahrani told one audience, "I'm pissed off!"), in case the poorly researched account of the failed government policy does not do the trick.
— 'Rosewater" is Jon Stewart's product. He is both the director and the writer of the adaptation of journalist Maziar Bahan's memoir "And Then They Came For Me." In a discussion (related to me by someone who took careful notes) the two told how Bahan's torture during his four months in an Iranian prison was psychological more than physical, and the psychology was deprivation of all hope. This theme of hopelessness was not that clear in the film itself because Stewart weaves in comedy (thankfully) with a dreary account of solitary confinement. There is a running gag, for example, in which the prisoner tells his salacious interrogator what really goes on in New Jersey.
— "Wild," starring Reese Witherspoon in Cheryl Strayed's memoir of walking the thousand-mile Pacific Crest Trail is more about a young woman's recovery from drugs and too many men than about nature, although there are a few obligatory scenes of fear-inducing wildlife, like snakes. Flashbacks keep popping up about the backpacker's former life and about her relationship with her mother, even as she flees ugly men talking like rapists and good-looking men talking more persuasively. An English professor warned me to stay away from this movie, but I saw it anyway, and I appreciated the underlying Erica Jong philosophy, retro as it is.
— "Mr. Turner" is Mike Leigh's imaginary profile of the innovative 19th Century British painter J. M. W. Turner. Someone in the lines warned me, "It's like watching paint dry" because nothing happens. And not much does, but I was engrossed by the art direction (Turner canvases crowd almost every scene) and the acting of Timothy Spall as Turner. Only a very good actor could be so stylized without verging on farce. Leigh, usually a social realist, brought about an improvised 19th Century English idiom that is convincing. Apart from that, the film was like spending two hours with a guide in the appropriate room of the New York Met.
— "Madame Bovary" is an English version of Flaubert's anti-romantic classic by a young woman director, Sophie Barthes. The cost of a subtly new-age interpretation of the tragic story is the casual appearance of American colloquialisms ("Sorry" instead of "Begging your pardon, Madam"). But it is a suspenseful story, tightly edited except for long tracks of the star walking in full costume.
— "Red Army" is a well edited documentary with lots of sports news and hockey actualities intertwined with an Errol Morris style interview with Tetisov, the first of the Soviet hockey defectors at the end of the Cold War. I have problems with hockey and now I know why — the American style is brutal and without the skillful team integration that the Soviet Union developed, maintaining discipline by inducting players into the Soviet army. This revelation flipped my expectations upside down. In the end the wealthy NHL looks more abusive than the Red Army.
Two films this year represented, in my oldtimer's mind, the obsessive hurry-hurry (as if Peyton Manning were directing) made possible by digital editing, which in turn inspires speedy dialog by young actors who at times seem to have their own language in which few words except fuck and asshole and the like are comprehensible. To wit:
"Mommy" is a brilliant piece of new cinematography (shallow focus, narrow vertical frame, intense closeups) and editing (with, of course, shots measured in microseconds) by a 25-year-old Canadian director (Take it again, Toronto), Xavier Dolan. The medium is the story: a wild single mom trying to control an uncontrollable pubescent son.
"Birdman" has the same frenetic atmosphere, set in backstage Broadway, except it makes no pretense of realism. Michael Keaton is funny. The supporting actors are beautiful and sexual and often nude. It's a combination of Spiderman and Raymond Carver. The soundtrack is snare drumming — constant and deliberately irritating. But it's entertainment and New Yorky and fast.
I see I left out "Two Days, One Night," a French labor update (no unions or lockouts or any other leftist trapping). Marion Cotillard is a worker on pills in a solar panel factory. The boss decides to fire her unless the other 16 workers forego their annual bonuses in a secret ballot on Monday. It's a pill-filled weekend as she goes prettily knocking on their doors. The failure of bright conversation in the script (if there was a script) makes this as exciting as a public opinion poll. Still, you will want to find out how the vote goes.
A strange unscheduled show Monday morning comprised three 15-minute interviews by Errol Morris called "Films of Peace." The subjects are a woman named Leymah Gbowee who confronted Charles Taylor in Liberia, Lef Walensa of Poland who confronted the communists, and rock musician Bob Goldof of "We Are The World." They all made a difference in the world. The theme, as in "Rosewater," was that official violence is a sign of fear and that it can sometimes be defeated by non-violent truth telling. Liberia, Poland, Africa, Iran. . .
Then I recalled a disturbing event as I walked to my camp from a late show:  Telluride cops, lots of them in three vehicles, some with heavy weapons, surrounding a car in the parking lot near the town park, where overnight parking is prohibited. There in the bright artificial light were two hippie-haired young people cuffed curled on the pavement and crying out as if in pain and calling the cops all sorts of names and the girl screaming "We don't have guns!" The contents in their old station wagon spilling out of the four open doors. I wondered if the illusion of a film festival had burst its frame.