By Larry Joseph Calloway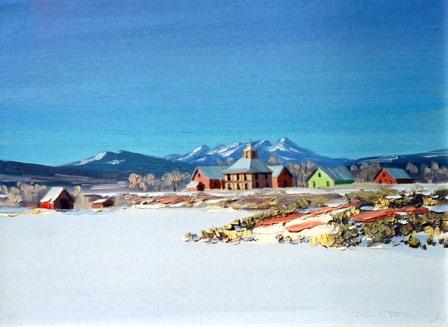 The night before I drove down to Santa Fe to take a reporter's job a Boulder political science professor gave me some farewell advice that foreshadowed everything. "Remember," she said. "You are going to a conquered land. And you are the invader." Liberals. Hah!
Nine months later as I sat with bound wrists in the back seat of a hijacked Rio Arriba County sheriff's GTO with a pistol at my head and a driver in a military beret with an M-1 carbine on his lap pointing to a handcuffed sheriff's deputy I thought, not so funny.
The driver, a wild young man named Baltazar Martinez, pulled up to an old adobe house where a woman was watching two children under the cottonwood trees.
"See what I got?"
She responded in harsh Spanish, "Trespassers. Take them out and hang them."
It was the afternoon of June 5, 1967, in Tierra Amarilla, N.M., and I was learning about land grants and the land-grant leader Reies Lopez Tijerina, the hard way.
Reminded that legendary hispanic militant was going to be the star of a celebration on the 40th anniversary of the Tierra Amarilla raid, I dug out an article I wrote for Argosy magazine at the time and hadn't read in decades – too painful. Suddenly for the first time I was seeing it as history, gone and done, and for the first time it had a vindicating spin.
Here, edited for brevity, is how it began:
"The first shot was fired just behind me in the hall of the Rio Arriba County Courthouse. I was telephoning a news story to my editor in Albuquerque. I whipped around, saw a drawn pistol and dropped to the floor of the five-foot-long telephone booth.
"'Some guy just took a shot at someone,' I said over the long-distance wires.
"'Who was it?'
"'I don't know. I'm on the floor. They'll get him in a minute.'
"A state police officer had been standing in the hall just a few feet away and the sheriff and two deputies were in an open office next to the telephone booth. I raised up, expecting to see the officers handcuffing whoever had fired the shot, but instead I saw all hell break loose. Armed men in work clothes or Army fatigues were storming into the hall. I hit the floor again.
"'It's a raid! I'm scared as hell.'
"Then the whole town seemed to explode with gunshots. I tossed the receiver to the back of the booth and flattened myself against the wall. The editor counted eight rapid shots before the phone went dead.
"There was more shooting in the sheriff's office, then I heard the regular bursts of a machine gun outside. I could hear the moans of a badly wounded man in the hall. I no idea how many others had been shot. Somebody was thrown against the phone booth door and slid to the floor, holding the broken door shut. I heard the machine gun firing upstairs in the courtroom. . . . "
On reading this it occurred to me that anyone caught in a similar situation today would be imagining wholesale slaughter as gunshots move methodically from room to room. Instead of thinking, as I did during the courthouse raid, "This can't be happening in the United States," they would be thinking, "Jesus, they're going to kill us all." I described the raid as "like a revolution." Today the cliché would be: like Columbine High School or Virginia Tech. But that kind of terror had not become part of the culture in 1967.
In today's politics the T.A. raid would likely be called terrorism, but I think it was more of a spontaneous explosion of anger by a group that had been pushed over the edge by malicious law enforcement. Still, it had the age-old terrorist affect of provoking overreaction by established authority. It was violence in a violent time, the Vietnam era. Overseas we were in an early version of "asymmetrical war," where overwhelming air power and technological superiority seems to fail against a determined guerrilla enemy. At home, ghettos were burning. The Rev. Dr. Martin Luther King Jr. was assassinated on April 4, 1968, and Robert F. Kennedy, exactly two months later.
I do not think shots fired in anger at T.A. involved an intent to kill. State Police Officer Nick Saiz was shot once through a lung and upper arm when Juan Valdez panicked, thinking he was going for his gun. Undersheriff Dan Rivera was battered with a rifle butt, as was Sheriff Naranjo, and Deputy Pete Jaramillo, taken hostage with me, was clubbed. Deputy Sheriff Eulogio Salazar, the county jailer, was shot through the cheek as he jumped out the court house window. He would testify in a court hearing that the shooter was Tijerina, and this would have been prominent testimony in any trial. But it was never repeated – because Salazar was dead.
Murdered. This was terrorism. The beating death on the night of Jan. 2, 1968, in T.A. was intended to silence a key witness and to intimidate all others. An attorney general's report in 1977 said as much, while clearing Tijerina of any complicity. The report came to the startling conclusion that the "murderers" could be identified, but, "We don't feel we have the eye witnesses to some of the details necessary to seek conviction." The report issued by Atty. Gen. Toney Anaya was the work of a temperamental young lawyer from the Midwest named Michael Franke. He knew who the killers were, but he could not persuade frightened Tierra Amarilla witnesses to open up before a grand jury.
I first covered Tijerina on Oct. 22, 1966, little more than a month after I began work for United Press International in the New Mexico capitol. On a mild and sunny Saturday I was sent to Rio Arriba County to cover a "demonstration" by his land-grant Alianza. The setting was a natural wonder in the high sandstone cliffs beside U.S. 84 called Echo Amphitheater. It was like a cathedral built of layered gold, silver and rose sandstone, with the gold streaking down like a message from heaven. It was a Carson National Forest campground, but on that morning it belonged to Tijerina and about 100 Alianza members.
Armed land-grant "heirs" stood at the entry gate cattle guard. Somewhere a chainsaw was at work on a pinon tree. The group had taken two forest rangers prisoner, staged a mock trial for trespassing or something, then released them. Handbills proclaimed a "free city-state" called San Joaquin. The old San Joaquin del Rio de Chama land grant was born again. These were people who could tell you, "The land is our mother," and you'd probably take them seriously.
Tijerina stepped up on a Forest Service picnic table and delivered a fiery oration in Spanish and English. "They stole our land and gave us powdered milk!" was one of his stock applause lines. The reference was to a federal welfare program, predating food stamps, in which surplus commodities were distributed – among them powdered milk. He regaled his followers with mimicry of effeminate Anglo rangers and such. And even to those of us who did not completely understand, he was a God-awful good speaker, this former evangelist with a near-Jungian belief in the supernatural power of dreams.
I drove to the nearest phone, at a Forest Service wildlife zoo a mile down the road, to file a report for UPI in New York. A man in a dark suit was talking long distance to a superior somewhere about storming the campground. He was saying they needed about 30 rangers. When he hung up he said, "If I get within five feet of Tijerina, every time he thinks of me the rest of his life he'll get a headache." Cooler heads prevailed, probably on orders from Washington, and everybody went home in time for the evening news. Asked by a reporter why the occupation of Echo Amphitheater, Tijerina said "Publicity." But he also had a quixotiic idea of setting up a legal test of his belief that the U.S. had no jurisdiction on the former land grants.
"I FELT A SPIRIT!"
The muddled court house raid did not follow this strategy, if any strategy at all. The Monday raid was the direct result of police suppression of an Alianza meeting planned at Coyote for Saturday. District Attorney Alfonso Sanchez of Santa Fe dispatched the officers with warrants for the arrest of any Alianza leaders they could find. They set up road blocks and searched cars. Sanchez was a motivated prosecutor who made no secret of his contempt for Tijerina as an outsider, a migrant worker from Texas. He obtained the warrants from a compliant judge from another district, Joe Angel of Las Vegas, N.M., on the strange and probably unconstitutional notion that he had a duty to prevent "unlawful assembly." Tijerina had said the meeting would be a "showdown," probably with the U.S. Forest Service, but he was not specific. Many of his northern followers had joined the Alianza when rangers began a campaign of strict enforcement of grazing regulations in the face of long tradition.
When Tijerina heard about the arrests, which included his brother Cristobal, and the roadblocks, he took cover because there was, of course, a warrant for him too. He hid near Coyote, but not passively. He did not run. Sanchez, whose mistranslation probably was the source of the "King Tiger" alias hung on Tijerina, was indeed twisting the tail of a tiger. There would be a reaction.
On Monday about 20 armed men assembled at the ranch of Tobias Leyba near the village of Canjilon, some 30 minutes south of T.A. At about 2:30 p.m. they started for T.A. to find Sanchez, whom it was presumed would appear for the state at the bond hearing for those he had arrested on Friday. The tactic, at least as it was described in retrospect, was to turn the tables: to arrest him for crimes against the people. Tijerina would argue the right of "citizen's arrest" of a felon even if the crime was distant in time or place. Sanchez, fortunately for him, didn't show up for the hearing on the second-floor of the old court house under a tin roof in the rain. He sent an assistant who slipped out of T.A. as soon as Judge James Scarborough released all of the half-dozen the defendants. The raiders did not arrive until 15 minutes after the court had recessed.
Tijerina years later told reporter Adam Saytanides of his anger. "God forbid," he said, "I felt a spirit!" It was a spirit that said to some, "No fear." Raiders told frightened people, "We're in charge now," taunted Officer Saiz with the click of an empty gun, slammed Naranjo to the floor while purring, "Little sheriff."
And beret-topped Baltazar Martinez, 22, was the wildest personification of Tijerina's mantra. He posed at the door of the room where the deputies and county employees (and me) were being held. I described him in the article as sleepy eyed, like Elvis Presley, leaning against the door, loose and casual, handling the carbine lightly and not missing a thing that went on. Some hostages said he carried sticks of fused dynamite, and he picked up the nickname "Dynamite Kid" from my article. He was just as casual outside, shooting out the windows of police cars, blasting open the trunks to steal shotguns. No fear.
Why police cars and no police? The explanation has always been murky, but it's not unusual to leave cars at a scene to evoke security, and there is corroboration that at one point two or three cars returning from an accident call out on U.S. 84 (It might have been a decoy) were surprised by a whithering barrage of gunfire from the court house and fled. One officer abandoned his unit and escaped on foot. Years later an eyewitness told me of Tijerina's delight when he fired and they burned U's and fled.
True, "the man's magazine," which published the then budding novelist Tony Hillerman's article on the raid, ran a two-photo caption that called Tijerina "as tough as the land he comes from; it took the help of the National Guard and tanks, below, to capture him." The more liberal media doubted that mobilization of 400 Guardsmen with jeeps and trucks and the two artillery pieces that looked like tanks was necessary. It was done in the absence of Gov. David F. Cargo, who in Michigan, by Lt. Gov. E. Lee Francis, advised by all sorts of people fearing "revolution." The New York Times focused in its coverage on Alianza women, children and old men being held without charges in a "cattle pen" (pasture) and suggested the situation could have been handled better by "John Wayne."
But to most the state this was no Western movie. If people were not quite afraid, they were shocked at the insurrection and the anger that drove it. This was the 1960's in a state known for government scientific laboratories – not the 1890's on the last frontier. Was it really about ancient land grants or about "Chicano" versus Gringo? Cargo, who sympathized with the Alianza (His wife was on the membership list), directed attention to poverty, bad roads, neglected schools and other needs that could be met by government.
It was all those things, plus a healthy rebellion against the patron system. Emilio Naranjo, the Rio Arriba Democratic boss, had run the county politically for thirty years. He was currently U. S. Marshall, his son was sheriff. He was allied with U.S. Sen. Joseph M. Montoya, a scion of patronage and pork. Tijerina took them on – he called Montoya a "Judas" – speaking fighting words to power. And the power structure, which included District Attorney Sanchez, was not used to fighting words..
ROSE'S STORY
Tijerina in an interview by Hillerman emphasized: "I am a man who is not afraid," and this impressed the author in view of Tijerina's roots as the son of south Texas migrant workers. His great grandfather had been hanged by Texas Rangers, he said. In reaction to his father's fear of Anglo authority that Tijerina in his early twenties preached courage and justice to migrant workers as a minister of the Assemblies of God, which had trained him as an evangelist. His religious inspiration, usually described as "fiery," as well as his near-Jungian belief in dreams as revelation, did not come across in the media – nor, probably, in police reports.
He projected this spirituality on his first daughter, Rose or Rosita, born Feb. 2, 1949. The date was the 101st anniversary of the signing of the Treaty of Guadalupe Hidalgo, which conveyed the Southwest to the United States while purporting to guarantee property. She was 18 at the time of the raid, with long black hair and a perfect figure and a modest but defiant expression. Mystical. Like this: there's a story in an Indian epic where a family prays for the birth of a warrior son to kill an invincible fighter on the side of their enemy. After an intense ceremony the answer to their prayers walks out of the sacrificial flames fully grown, wearing armor and carrying weapons. Overwhelmed with gratitude they hardly notice that just behind the warrior a dark and beautiful woman steps off the altar, unsought. Similarly, as Tijerina emerged from the court house raid as a militant activist of global proportions, a girl of 18 came out of the flames too. Rose Tijerina, the only woman among the raiders.
Interviewed 25 years later, when she had broken bitterly from her father, she recalled hanging out with other teenagers at Leyba's ranch when Tijerina came out of a meeting of men and motioned to her and told her to grab a jacket because she was going with them. "I didn't ask where or why or what. I just did it, because I did anything my father would ask. I trusted him. I never questioned anything he did," she said, bitterly. She climbed into the cab of a truck she described as "like an Army truck" with a canopy over the back where he and the other armed men hid. Juan Valdez was driving, and after perhaps 30 minutes they arrived at the T.A. court house. She walked with Valdez and her young boyfriend up the stone steps to the doors of the worn-out pink two-story court house.
"If Alfonso Sanchez was there I was supposed to go call my dad, and they were supposed to go in. We went inside the court house, and I remember I saw this young policeman. I was just, like, peeking around in the hallway. I turned my back to the policeman and to both Fabian and Juan. And just then I heard someone say, 'Give me your gun,' and I was so scared to turn around because I didn't know who said it. And then I heard a shot."
It was 3 p.m., June 5, 1967. Juan Valdez had just fired the first shot in the court house raid. The bullet ripped through Saiz's left lung and shattered his left arm. "I ran to the truck and I told my dad, 'Hurry. Hurry,' but with the Spanish word. So my dad said, 'What happened?' And I couldn't say anything else because I didn't allow myself to see anything after I heard the shot. I didn't know who got shot. I just kept telling him to hurry up. So I saw my dad and my brothers and a bunch of men jumping out, and they were all armed."
She was told to stay in the truck. "But I kept hearing too many shots. Gun shots. And screams. Screaming. I thought it was men screaming. I couldn't stand it. I thought, maybe brothers are getting hurt. Or my dad. So I just got out of the truck, and I ran back into the court house. And then I saw, uh, blood on the stairs. The floor. And the policeman was on the floor crying, or begging for help. And my youngest brother (Danny) was making him pray. I was so confused," she said, sobbing. "I didn't know why all that was happening."
She recalled the shock of seeing her father hitting a man in a sheriff's uniform. "It was my dad. My dad was hitting him, and I don't know who else. And he (the sheriff) was saying, 'Why are you doing this to me? What did I ever do to you, Reies?' I didn't like seeing my father like that. Or my brothers."
She saw Baltazar Martinez herding scared people at gunpoint into a room off the hall. "I remember Baltazar had them all sitting down. There were women. Girls and young women. And men. People. All the employees from the court house. He was holding them there He was wild. Of the whole bunch I was more scared of him than anybody."
She saw Baltazar, holding a rifle, pull a man out of the oversize telephone booth and heard someone say the man had been making a call. "I thought, Oh, God. I was just afraid they were going to kill this man. Everybody looked so angry, and I was so scared. I was scared for all of them. And I was feeling very sorry for the men they were hurting that were in the court house. I didn't like that."
"I don't believe in violence or hurting human beings, regardless of what they've done," she told me. I didn't tell Rose Tijerina until the end of the interview that the man in the phone booth was me. She nodded and said quietly, "I know."
The raiders returned to Leyba's ranch. Tijerina and the others faded into the surrounding hills. Rose remained, spending the night with others under the floodlights in a pasture. Next morning some State Police officers arrived and approached a group of young men who were prepared to be arrested. Then an officer suddenly pointed to her and said, "You."
She was escorted into a small room and surrounded, she says, by a half dozen men. They didn't say who they were, and she says she never asked. "They just told me to sit, and I sat down, and they all started questioning me. They said, 'You better tell us where your dad is, if you want to see him safe and alive.' And I told them, 'How can I tell you if I don't know?'
"I could hear when they would talk about my dad, there was laughter, laughing like my dad was stupid or something. They said, 'You know he's going to get killed because when somebody is running from the law that the law has the right to shoot. So your dad's going to get killed.'"
That afternoon she was in jail, for the first time in her life, and a few days later she was sent to the state penitentiary. She was never convicted or even tried for any crime, but she spent nearly three weeks in prison on the specific orders of Al Sanchez. She was terrified, having heard terror tales of young women in prison, and her mother screamed and cried when they took her away. Then as a matron led her into the women's section, a funny thing happened. Everybody applauded.
Then the court severed Tijerina from the other defendants in the massive showcase trial beginning in November 1968. Stepping in the shoes of his own defense lawyers, he went on to win an impressive personal victory. The Albuquerque jury on Dec. 13 found him not guilty of all charges brought by the state. The world was watching, and soon this apocalyptic preacher of land and justice shared the social protest platform with the Black Panthers as well as non-violent activists including Ceasar Chavez and the Rev. Dr. Martin Luther King Jr.
REVISTA
In 2005 for the first time I revisited the T.A. court house with Saytanides, who was piecing together the raid story. The old neoclassical seat of county government, looked about the same, still out of place in an old adobe village. Apparently the people are happy with the building because voters in the 1990's rejected a bond issue to replace it. Inside, partitions had been moved around, and the phone booth had been removed. Outside there was a parking lot and curbs and lighting, probably a state capital outlay project courtesy of Emilio Naranjo, then a state senator.
Across U.S. 84 near town was the hilltop homestead of Amador Flores surrounded by signs that said, "Tierra O Muerte" (Land Or Death) illustrated with a mean picture of one of Pancho Villa's dorados with crossed bandilleros and a carbine. If tales of the tijerinistas don't frighten away developers, this will, if they know the story behind it. Flores, no doubt inspired by the land grant movement, squatted on 250 acres, writing himself a deed. The Arizona land speculators who owned the tract went to court to kick Flores off, but he refused and was jailed for contempt, which only made him madder. A civil rights lawyer took his case and the Lawyers Title Insurance Co., which guaranteed the title, decided not to fight, deeding the property to the squatter and paying off the owners.
Amador's reconstituted chain of title began, like all property in the area from T.A. to Chama, with confirmation of the Tierra Amarilla Land Grant by the U.S. Congress in 1860. What began as an undoubtedly modest Mexican grant to Francisco Martinez and "whoever shall accompany him" in 1832 was confirmed at 600,000 acres. At the time it was little more than cheap grazing land. The value skyrocketed when the railroad reached Chama twenty years later. This might have been good news for the rightful heirs of Martinez, et al, except by then most of them had been tricked or coerced into quitclaiming. The grant now belonged to a group headed by Thomas B. Catron, a powerful Santa Fe Republican (one of the state's first two U.S. Senators, among other offices). It was the same story with many other grants: inflated, converted to private property under American law, stolen.
The story of the very San Joaquin grant claimed at Echo Amphitheater illustrates an attempted inflation that too absurd for even the corrupt politicians of territorial New Mexico. In 1806, Joaquin Alencaster, the Spanish governor in Santa Fe, received a petition, which began: "I, Francisco Salazar, ensign in the militia of Abiquiu, together with my brothers and 28 other poor and needy citizens, appear before your excellency," etc., to ask for land. The group had location in mind. It was in the upper Rio Chama canyon, and it appeared to be unallocated, which meant it belonged to the King. So Alencaster sent an alcalde to make an inspection, and he in turn reported in writing that the location was an unoccupied strip of cultivable land along a reach of the river about 2 leagues, or 6 miles long. The governor followed up with a decree allocating 26 lots for houses and gardens – two for Francisco Salazar – and a townsite to be named "San Joaquin del Rio de Chama." The alcalde, Manuel Garcia de la Mora, took the settlers to the canyon on March 1, 1808, to give them the land. He wrote that he took each by the hand to his own lot and, "They ran joyfully over the land, plucking up weeds and casting stones and shouting 'Long live the king that protects and helps us!'" These people were not crazy – it was the traditional way of taking lawful possession.
It's hard to imagine how anybody could believe the grant was meant to be 472,737 acres, but that's the area surveyed in 1878 by Stephen McElroy in accord with findings of James K. Proudfit, the surveyor general of New Mexico Territory. In other words, a six-mile strip of land in a narrow 1,500-foot-deep canyon was now 25 miles wide and 30 miles long. And, of course, it was no longer in possession of the heirs of Francisco Salazar, brothers and friends. It now belonged to a group of English investors under the name "Rio Arriba Land and Cattle Co." This might have been confirmed, too, except for a later surveyor general named George W. Julian, distinguished by his rare integrity. In 1886, he issued a scathing report on the survey, saying McElroy had no basis for wandering in search of landmarks outside the canyon. Julian cut the survey down to only 166 acres. In 1894, the U.S. Court of Private Land Claims, which had taken over for Congress, confirmed the grant at 1,423 acres, and this was upheld by the U.S. Supreme court in 1897. The opinion by Chief Justice Melville Weston Fuller stated the theory that town commons, or communal land grants, under Spain or Mexico simply became public lands when the U.S. took over. In other words, it was either private or public, nothing in between. Much of the remainder of the nearly 473,000 acres, therefore, would become part of Carson National Forest, including Echo Amphitheater. The confirmed 1,423 acres became a private ranch, which in 1969 was acquired by the Forest Service in a land trade.
The courts have stuck with the no-commons precedent in New Mexico land-grant cases. In the early 1950's heirs to the T.A. grant sued rancher Bill Mundy for revival of traditional access to 11,000 acres south of Chama. The U.S. Supreme Court upheld a federal court decision that the T.A. was a private grant exclusively and therefore the local residents had no communal rights. Many rebelled. At one point, State Police dispersed a group of 50 armed men who were preparing to bust up a road block placed on the traditional access to forest lands by owners of a sawmill that had previously been torched. Mundy in 1953 was so harrassed that he went to Santa Fe District Court to get a restraining order against local people who even then were called "land-granters." It was a feud going way, way back. But it always lacked a Tijerina.
His legacy goes further than many who have benefited from it probably would admit (because of the violence). Consider Tierra Wools in the old village of Los Ojos near T.A. It's a thriving retail outlet for original weavings from the wool of the Churro sheep, a Spanish transplant that is being revived. Creation of the marketing cooperative by economist Maria Varela came after the T.A. raid. One strong supporter of Tierra Wools is Robert Redford, director of "The Milagro Beanfield War," based on a 1974 novel that some believe was inspired by the T.A. raid. Politicians have not failed to get into the act, sponsoring studies and making promises. U.S. Sen. Pete Domenici in 1998 figured that under legislation he supported, 2 million, maybe 4 million, acres would be affected when, as he put it, "the land grants are reconstituted." Reminded of the Tijerina legacy, Domenici probably spoke for a lot of people when he replied: "He chose to do something by force and made himself the law. This isn't going to be done that way." Still, the Congressional way has produced nothing but an extensive GAO report.
And now there has been a breakthrough in the courts, not in New Mexico but in Colorado, where the state supreme court in a precedent-setting opinion, gave residents of the former Sangre de Cristo Land Grant near the New Mexico border a communal right to enter the private Taylor Ranch to graze livestock and to cut timber and firewood, for limited domestic uses. The opinion cited an 1872 finding that rights essential to the use and enjoyment of property come from the "pre-existing and higher authority of laws of nature, of nations, or of the community to which the parties belong."
EPILOGUE
U.S. Forest Service investigator James Evans would have his wish of getting within five feet of Tijerina in June 1969 near Gallina , but it became a very dangerous armed standoff. In the pre-announced demonstration, Tijerina's wife, Patsy, was going to burn a Forest Service sign. Tijerina, as Hillerman related it, wrestled himself away from Evans, pulled a carbine from his car and ordered the plainclothes agent to "get your gunslingers out of here." Evans leveled a rifle at Tijerina. Robert Gilliland, the chief state police investigator for the T.A. raid, and a police officer added their firepower. The land-grant leader froze, then stood down on the advice of his body guard. He said later, "I thought I was going to die." Evans was heard to comment, "I should have shot him." Nobody was hurt, but it turned out to be the incident that kept Tijerina in federal prisons for nearly three years. Evans got his man.
Sanchez left office weeks after Tijerina's initial jury acquittal. The trial, covered by international media, had been a bizarre mano a mano between a defendant who paced before the jury in cotton pants and work shoes and a district attorney in a fine suit and shiny brogans. Sanchez would never again win elective office, although he tried to be a judge and was rejected by voters in all three counties of the district.
But the state was holding charges in reserve, and, failing to overcome issues of double jeopardy, Tijerina was convicted of assault on Eulogio Salazar, whose statement was admitted. He would serve seven months in the state penitentiary for his role in the T.A. raid. Gov. Bruce King refused Rose Tijerina's tearful plea for a last-minute pardon of her father in 1974.
Juan Valdez was the only other June 5, 1967, defendant to be convicted – of the shooting of Officer Saiz – but he was pardoned by King with the support of Emilio Naranjo. Valdez went on to raise his family and stay out of trouble, working primarily as a logger.
Emilio's powers began to fail in the years after the raid. He lost an important civil rights lawsuit for falsifying evidence in a marijuana case against Moises Morales, a teenage raid defendant. In 1996 Morales was elected to the county commission, where he continues, and Emilio lost his seat in the state Senate to a Democratic challenger.
Baltazar Martinez, the only other raid defendant to go to trial, was found not guilty by an Albuquerque jury that apparently believed his defense, temporary insanity. An aspiring artist, he sat sketching the jury during testimony. He came to a violent end at age 62 – shot near El Rito in an argument over ownership of a tractor with his girlfriend's ex. He was unarmed but would not cower. He was shot first in the shoulder, then in the back as he turned in contempt, according to sources.
The murder of Eulogio Salazar is, or ought to be, New Mexico's No. 1 unsolved mystery. Ironically, the fatal stabbing of Michael Franke 11 years later in Salem, Ore., where he was state corrections secretary, is often publicized as Oregon's No. 1 unsolved mystery, at least in the opinion of those who believe the smalltime thief convicted in the case was a fallguy in a coverup.
Rose Tijerina married and divorced her boyfriend – they had two children who went on to get college educations – appeared in minor parts in two Mexican feature films and moved to Oregon, where she started a singing career. She took up with Cargo, the governor during the raid, and they were a couple for a while in Albuquerque. She perhaps suffered more than any other raid defendant, a victim of suicidal depression severe enough to warrant electroshock therapy, she told me, in 1992.
Meanwhile the land endures, resisting the forces of development – and this perhaps is another legacy of the T.A. raid. The San Joaquin del Rio de Chama land grant is still wilderness, a wide plain of grass accessed by the only bridge in the Chama canyon. On a gentle rise are the footings of an old ranch house. From there you can hear the murmur of rapids well known to river runners. The colored canyon walls downstream frame some peaks of the Sangre de Cristos. An association of San Joaquin heirs is negotiating peacefully with the Forest Service. They have found a cemetery, old stones marked with crosses. They hold picnics there, with whole families, unarmed.
A dozen miles away as the raven flies, the great resonant sandstone arch of Echo Amphitheater is like a giant ear. It has heard a lot, including the raging, regaling, apocalyptic speeches of Reies Lopez Tijerina, and I suppose it will hear more.