Will the CIA be great again?
By Larry Joseph Calloway ©
A Great Place to Have a War: America in Laos and the Birth of a Military CIA by Joshua Kurlantzick (Scribner, 2017)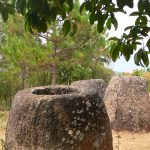 Laos is a great place to be a tourist. It has Luang Prabang, with its French colonial architecture and Buddhist monasteries along a simple historic main street. It has the Plain of Jars, with its mysterious artifacts among American bomb craters on a depopulated plateau. It has the Hmong people of the Colin Cotterill's "Dr. Siri" mystery novels. It has communist Vientiane, linked by a Mekong bridge with the bright lights of capitalist Thailand. It has rolling mountains and calm rivers and deep pools.
So forget the war. The Lao people have or – as in Vietnam – seem to have forgotten. It ended more than 40 years ago. But Joshua Kurlantzick's book is no travel guide. It is the most comprehensive documentation yet of the "secret war," whose political secrets have already been told in bits and pieces. (Kurlantzick uses many of the same journalistic clips that I used  in writing inspired by travels in laos beginning ten years ago.)