Part 3, The Ozarks and New Orleans
Because much of the Ozark Mountains of Arkansas is federal, all the campgrounds were closed, so we found ourselves checking-in at the Dogwood Motel in Mountainview (pop. c. 3000). The young man at the desk recommended a catfish restaurant and the Ozark Culture Center north of town.
Catfish needs no definition. Even anthropologists argue endlessly about culture, but at the proud little state park culture is about music and storytelling and broom making and copper annealing and dress making and wood carving and wool carding and weaving and cigar-box guitars and letter-press printing and quilting. You go from studio to studio where exhibitors show how things were done, as musicians in a pavilion outside sing old-timey songs. Bill Clinton visits here often, they say.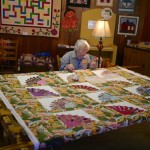 The printer caught my interest, the quilter, Pat's. I was reminded how much work it took to hand-set type and justify it and make the impressions right. A printer apprenticeship was five years. The foot-treadle press must have been satisfying work because the printer, not the machinery, was in control of the speed and the paper feeding. The quilter showed Pat how to design and sew a "log cabin" patch, a square that has dark colors in one corner giving way to light colors in the opposite corner — like the cold side and the fire side of a log cabin.