FIRST LIFE
From a promotional insert in the Albuquerque Journal (just before my early retirement):
Columnist Larry Calloway, with great suspicion, has covered about 25 regular sessions of the New Mexico Legislature and an alarming number of political campaigns. His column appears like clockwork, Sundays, Tuesdays and Thursdays, on the Editorial page. An outsider, he loves New Mexico and its diverse people but has not fallen in love with its politicians.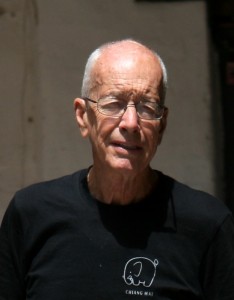 He had a promising Western wire service career going when he arrived in Santa Fe from Denver in a used 1962 Ford Fairlane junker containing only himself and  all his possessions. He had already worked for United Press International at news bureaus in Helena (Montana), Salt Lake City and Denver, with brief temporary assignments in San Francisco and Topeka. New Mexico ended his travels. He stuck, got married and began raising a family of two daughters.
His first in-depth experience with New Mexico politics was the Rio Arriba County courthouse raid on June 5, 1967. He was tied up, pushed around, paraded through Tierra Amarilla, threatened with hanging and shot at. He escaped at a State Police roadblock and wondered, "Was it something I wrote?"
It has been that way ever since. Calloway has been reviled by Democrats for his "monkey speech" story that contributed to the defeat of U.S. Sen. Joseph M. Montoya. He has been denounced by both the regulators and the regulated for revelations about things like monopoly bus companies. He has been excoriated in letters to the editor by activists, candidates, lobbyists and governors for discussions of things like real estate deals, political hiring and no-bid contracts. He has been castigated frequently by legislators in open sessions of both houses.
Before all that, Calloway was born innocent in Wyoming and raised in Colorado. He was educated in the Denver public Schools, at the University of Colorado-Boulder (BA, philosophy of science) and at Stanford University (professional journalism fellowship). He has worked and traveled in Asia. Calloway was with The Associated Press in Santa Fe through the 1970s and joined the Journal in 1980 as the founding editor of Journal North.
Politically, he prefers to describe himself only as "journalist," meaning that he looks for the truth behind the cliches and ideologies and tries to write it. He has published a book of fiction, "Guide to the Lost Mountains," and is writing a book of nonfiction on his lengthy visit to New Mexico, something that probably will have "outsider" in the title.
SECOND LIFE
(In progress. . . )